During a recently on-line rant about anti-abortion terrorists, I happened to trip over some statistics on the rate of mortality during childbirth (the "Maternity Mortality Rate") from the WHO. And being the kind of person that statistics interest, I spent some time looking into them; indeed I got so interested I transcribed some of the raw figures to generate a pretty graph :-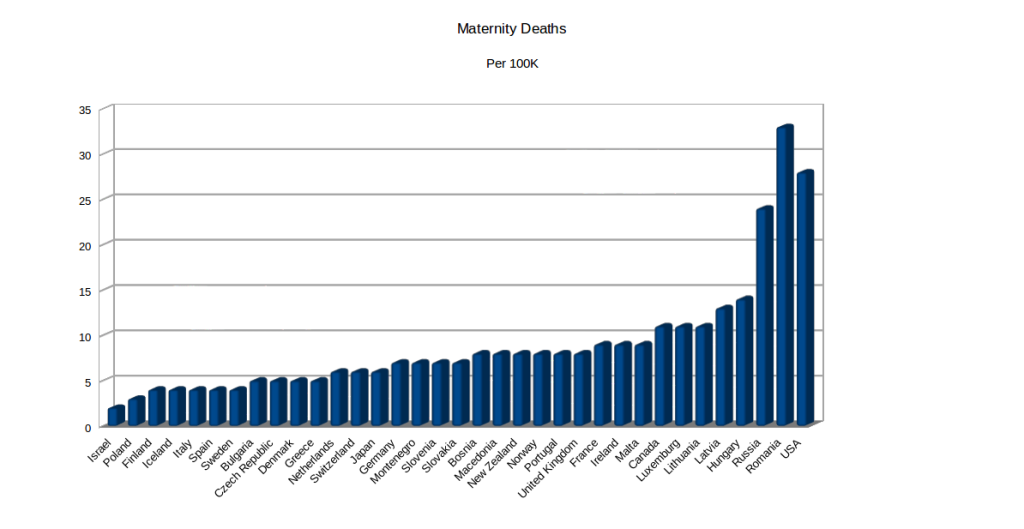 This obviously excludes many countries – what we could call the developing countries. The countries included (which you'll have to peer closely in order to see – sorry about that) are all rich. At least relatively speaking.
Just look at the USA! Down with the also-rans amongst what could be called the relatively dysfunctional countries at the fringes of being considered "developed". Now you could argue that there is something special about the reason why the USA doesn't have a single-digit MMR like the overwhelming majority of developed countries. I can think of a few possibilities myself :-
Perhaps the USA is the only country in the world to tell the truth about it's actual MMR and all the other countries are lying. Perhaps. I am not going to argue there isn't a bit of shady practices going on with the figures in some cases, but these figures are produced by statisticians and as an overall group statisticians don't like lying about numbers. Yes there is the old saw about "lies, dammed lies, and statistics", but the source of that distrust is the twisting that politicians apply to statistics to support their lies.
Perhaps the USA didn't read the instructions from the WHO properly about what kind of deaths to include in their returns and they're including deaths that other countries wouldn't include. But whilst I've not read the instructions from the WHO about this, I have read other instructions on statistics and they usually go into excruciating detail about what should and should not be included. It's possible that the USA handed this little job over to a complete dumb-arse, but it doesn't seem very likely.
The WHO is anti-American and decided to inflate the figures. This is just laughable – the WHO isn't going to risk getting called out by doing something so obvious even if it really was anti-American.
Sometimes the most obvious reason is the real reason – and here the most obvious reason is that the US health care system sucks.
There is additional evidence to show that – the WHO figures cover years other that 2013, and the US figures are consistently bad and getting worse.
But how can this be? The USA is one of the wealthiest countries in the world that spends a ridiculous percentage of it's annual GDP on health care. It also produces many healthcare innovations and undoubtedly has improved maternal care at some point with some new technique. The really rather obvious (although it really needs to be tested) is that healthcare in the USA is divided into three.
There are those who have full insurance, and this group probably gets pretty good healthcare.
There are those who are covered by government schemes and this group probably gets reasonable healthcare.
And there are those who fall between the cracks – they're not covered for various reasons – and their care is abysmal and probably limited to emergency care only. Which can sometimes be too late.
But when you come down to it, if you are pregnant it may be worth avoiding the USA until you've given birth. And if you're already in the USA, it may be worth thinking about a long break somewhere where they have a healthcare system that doesn't suck.