It seems Piers Morgan has got in all of a lather about vegan sausage rolls being introduced to a well known pastry shop :-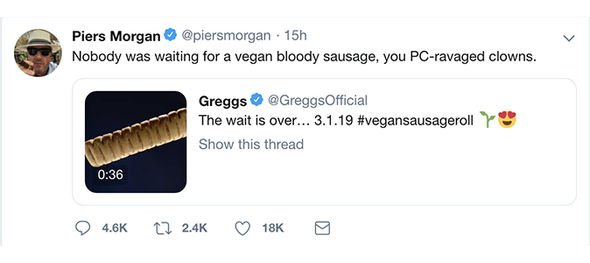 The funny thing is just how pathetic he is with this comment. Personally I've never been to a Greggs simply because the vegetarian selection was so rubbish (it's been a while since I checked). So that's one customer that Greggs have missed out on, although now I may pop in for a vegan bloody sausage roll just to annoy Piers (although I somehow doubt they're actually bloody).
Piers is an example of the kind of person who shouldn't be put in charge of a waste-paper basket never mind anything more important. He's under the impression that his choices in life are what everyone should be doing, which can be very dangerous indeed.
Greggs are perfectly free to change their menu at will and offering choices to vegetarians and vegans seems a perfectly sensible thing to do. It increases their potential customer base, and frankly the only meat-eaters who complain are the kind of stodgy thinkers that Piers is.
After all Greggs isn't going to stop stocking "real" sausage rolls whilst they still have plenty of customers buying them.